Sponsored By Panorays
July 23, 2019
1 PM ET
While companies are stuck knee-deep responding to alarms within the environment, the supply chain is typically overlooked. Yet, a supply chain attack can have deep repercussions on a company - from data theft and brand tarnishing to regulatory fines. As a security professional, you have the responsibility of safeguarding your company's data and assets. But how can you control an environment that you don't even have visibility into?
In this webinar, we will:
Present techniques to unveil your supply chain's attack surface
Pinpoint warning signs of a supply chain breach
Provide a practical strategy to increase the cyber resilience of your supply chain
Dov Goldman, Director of Risk and Compliance, Panorays

Dov comes to Panorays with years of experience in the third-party risk and compliance field, as well as a long history as a serial entrepreneur, software and network engineer. Dov focuses on the evolving best practices and industry standards in third-party management and regulatory compliance. Previously, Dov was VP of Innovation at Opus, Director of Product Marketing at Navigant, and Founder and CEO of Cognet Corp and Dynalog Technologies. Dov has spoken at industry events around the world and has been quoted in numerous industry press articles, as well as The Wall Street Journal, about information security and privacy.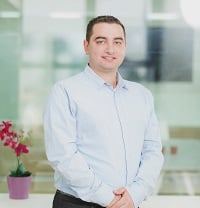 Demi Ben-Ari, VP R&D and Co-founder, Panorays
Demi brings to Panorays his expertise in building communities and networks - both online and offline. His technical background enables him to provide visibility into companies' seemingly blind spots and build large systems to empower users through insight-sharing.
Demi is a recognized Google Developers Expert, co-founder of "Big Things" - one of the largest Big Data communities - and of the local Google Developer Group Cloud. He is a renown international speaker, presenting Big Data solutions and distributed and scalable systems to both technical and management teams.