July 24, 2018
11 AM ET
DevOps is radically changing the way organizations provision and deploy services. Information security is playing catch-up with the shifts introduced by these new processes and tools. The result is a security gap in DevOps managed systems.
In this webinar, you'll learn strategies for addressing the most significant security issues proactively at build time rather than reactively in production. It's vital that DevOps engineers take control of new tools and processes to ensure that secure deployments shift left. Attendees will also learn how to integrate Tripwire tools into the CI/CD pipeline to identify vulnerabilities and misconfigurations at build time.

Tim Erlin, VP of Product Management and Strategy at Tripwire
Tim Erlin is a VP of Product Management and Strategy at Tripwire, responsible for the Solutions and Strategy. He previously managed Tripwire's Vulnerability Management product line, including IP360 and PureCloud. In his 12 year tenure at nCircle, prior to acquisition by Tripwire, he grew the vulnerability management business from a handful of customers to more than 5000, including global expansion. Erlin also managed nCircle's policy compliance and reporting products. Erlin's background as a Sales Engineer has provided a solid grounding in the realities of the market, allowing him to be an effective leader and product manager across a variety of products. His career in information technology began with project management, customer service, as well as systems and network administration.
Erlin is actively involved in the information security community. His contributions include blogging, podcasts, press, speaking and television.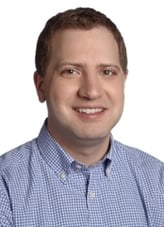 David Meltzer, Chief Technology Officer at Tripwire
David began building commercial security products in 1996, in the middle of the eight years it took him to get a B.S. in Computer Science from Carnegie Mellon University. He has a strong entrepreneurial focus, having founded two venture-funded technology companies, and served as Founder, Chief Technology Officer and Chief Executive Officer at both those firms. This included Cambia Security, where he built the software that became Tripwire's CCM. Cambia was acquired by nCircle, where he continued as Vice President of Engineering and CTO, and he has continued to hold senior leadership positions at Tripwire since its acquisition of nCircle in 2013.

David is laser-focused on innovation. He enjoys taking an idea and working through the entire process required to take it from concept to a commercial product. At Tripwire he has focused his unique talent for building products from soup to nuts on solutions that address the most sophisticated cybersecurity challenges facing the company's diverse customer base.